The Gulf region is moving towards environmentally friendly, sustainable construction methods utilising local weather. Australia can learn from this change.
The Gulf Region, which is generally considered to consist of six countries – Bahrain, Kuwait, Saudi Arabia, Oman, Qatar and United Arab Emirates (UAE) – has for many years had a reputation for ostentatious growth supported by cheap energy and a lack of regulation protecting the built environment. Much of this reputation has emanated from the massive height of buildings constructed in the Emirate of Dubai and to a lesser extent, the Emirate of Abu Dhabi, over the past 10 years. Dubai currently boasts 18 completed buildings more than 300m high, more than any other city in the world. Leading the pack is the mighty Burg Khalifa, the world's tallest building standing at 828m high, which was completed in 2010.
However, behind this glitzy exterior a quiet revolution has been underway over the past five years, led by the UAE, which has seen a change in attitude and demands related to the sustainable built environment. This was first reflected in the innovative Masdar City development in Abu Dhabi which focussed on the construction of a largely self-sustainable city. Green building principles and comprehensive adoption of renewable energy sources were integral to this innovative project.
Although energy costs are still inexpensive compared to Australia, the Emirate States of Dubai and Abu Dhabi have led the way by enacting regulations and specification directives which adopt the best environmentally friendly international standards, adapting where necessary to suit the extreme local conditions.
Emirates Green Building Council leads the way
The establishment of the Emirates Green Building Council (EGBC) in 2006 was integral to the legislative changes that have recently been enacted. The EGBC helped to disseminate information about successful green building practices underway in other parts of the world. In turn, this helped to create a demand for innovative solutions to address the extreme climate of the Region, where summer day maximums regularly exceed 45⁰C and where fine dust storms are a regular occurrence.
The EGBC oversees the highly prestigious annual MENA (Middle East North Africa) Green Building Awards to reward innovative green building design, research and products that lead to lower energy usage and healthier indoor environments. CSR Edmonds' EcoPower hybrid technology was a proud winner of the most innovative Indoor Air Quality product award in May, 2017 – a great coup for Australian technology in one of the harshest populated environments known.
Local conditions present particular opportunities for green building products
While the initial technology focus in the Gulf centred on innovative conditioned air technologies, there have also been major attempts to harness the significant daily temperature range typical of the populated areas of the Gulf, where most live close to the water. This range is typically up to 10⁰C. This is referred to as a diurnal weather pattern and is created by proximity of the sea to the desert. It leads to a strong afternoon breeze from the sea to the land often exceeding 35km/hr. However, at night, wind speeds often drop dramatically, meaning natural ventilation will have a limited source of power.
The existence of this weather pattern has provided the opportunity to exploit the concept of 'free air cooling', also called the 'economiser cycle'. Economiser systems use external air, when it is cooler than internal air, to help reduce inside temperatures. The cooler air also removes heat radiating from thermal mass absorbed during the daytime. While fluid economisers can be incorporated into chilled water cooling systems, it is also possible to utilise air economiser systems to improve working conditions in factories and warehouses. This is simply a means, often controlled, to bring cooler night air into a building so that when it is occupied the next day, the opening temperature is close to the minimum overnight temperature. Without this deliberate introduction of night air, the opening temperature is likely to be only a few degrees below the day time maximum.
Natural & hybrid ventilators achieving success exploiting economiser cycle
The big challenge is to exploit free air cooling in an energy efficient way to achieve the air exchange. CSR Edmonds has provided its Hurricane 900 natural ventilator to achieve this outcome throughout the Gulf since 2001. By depressurising the building, it induces the influx of cooler night air. In 2004, use of Hurricane natural ventilators in a plasterboard products warehouse in Dubai vindicated the value of free air cooling, showing employees benefitting from a 5⁰C temperature reduction during the morning period and an enhanced air quality throughout the day, as the graph below shows.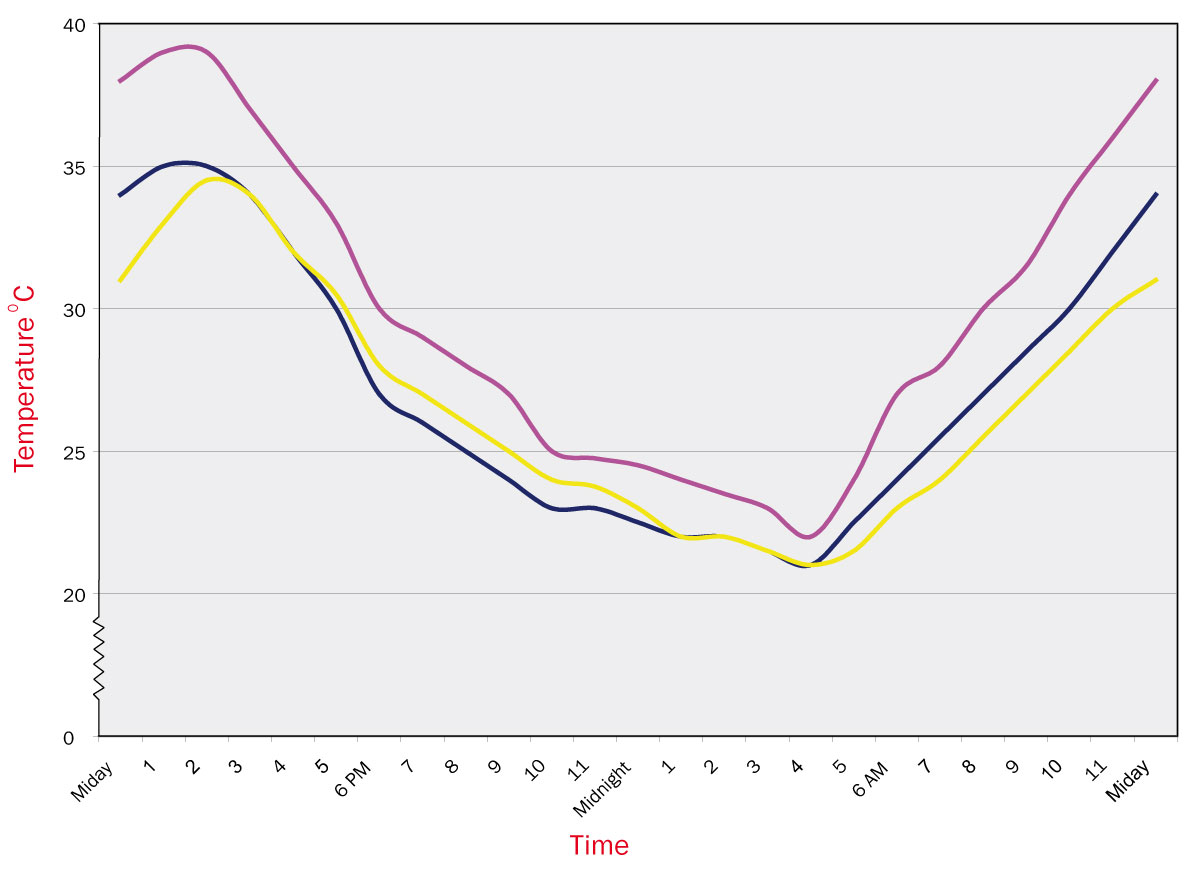 Another challenging local factor is the need to protect against intrusion of fine sand particles into buildings. It is expected CSR Edmonds' EcoPower will be utilised extensively for free air cooling in future for large warehouses where replacement air is likely to enter through sand trap louvres. These induce a significant resistance to airflow, as compared to traditional louvres or other openings to airflow. EcoPower's higher flow rate, due to its high rotation speed (equivalent to the impact of a 70km/hr wind speed), performs well despite the resistance of sand trap louvres as well as compensating for lower wind speeds at night, whereas pure natural ventilators will struggle at the much lower average night time wind speeds.
Centuries-old principle

The principle of 'free air cooling' is not new. Adoption of the concept can be traced back many hundreds of years. Portuguese forts constructed in the 17th century along the Omani coast used primitive 'ventilation chimneys' to capture the cooler, night air and circulate it to cool the environment while removing the radiant heat load from the large thermal mass of the structures.
Australian coastal environment similar to UAE
Australian conditions in most large coastal cities offer many similarities to the UAE environment, so the opportunity exists for local building designers to utilise technologies which introduce night air with the same energy efficient technology. EcoPower hybrid ventilator by CSR Edmonds can be controlled to perform this function for schools, factories, warehouses and bulk retail establishments while Odyssey programmed air exchange system undertakes this function for residential buildings – both with the use of very minimal energy. And with the added advantage of removing stale, polluted air and ensuring a fresh environment for those either living or working in the buildings.
---
Article by Allan Ramsay - Export Manager for CSR Edmonds
Allan was formerly the Managing Director of Edmonds as a private company between 1996 and 2005. Edmonds was sold to CSR Building Products Ltd in late 2005 and Allan took the position of General Manager of CSR Edmonds until 2013, when he moved to Export Manager with the challenge of increasing Edmonds presence on a world scale. With an extensive technical background, and a strong passion for using energy efficient means of ventilation to improve conditions for clients, Allan has helped customers in over 50 countries develop appropriate ventilation schemes, using Edmonds commercial vent range, to meet their objectives. He has worked with some of the world's largest corporations, such as General Electrics, Umicore, Caterpillar, Coca Cola and Qantas to provide appropriate ventilation solutions.
---
Subscribe to Building Knowledge Newsletter: