Whether you're building a new home or undertaking a major renovation, these strategies are often overlooked in the quest for superior comfort and indoor air quality.
A reasonable expectation of all homeowners is that their home shouldn't cause them or their family to become sick. This means builders must be extremely careful about the products and materials they use, especially if they're aiming for improved energy efficiency and air tightness.
Well-sealed buildings can trap stale air, moisture, mould, pollen and other airborne irritants. On the flip side, older buildings breathe better due to excess air leakage, however they don't provide effective protection from the climate like newer buildings do.
So can we achieve the best of both worlds? Can builders deliver well-sealed, energy efficient homes that effectively manage internal air quality?
Well the simple answer is Yes, of course! The more complex answer is in how best to achieve this for your clients, because this is likely to vary for each client and project.
You could take the approach of the PassivHaus standard, the internationally acclaimed world class performance standard for highly efficient buildings. PassivHaus was originally developed in Austria for the typically cold European climates, but has more recently been adapted for hot and mild climates. PassivHaus however is not for everyone's taste or budget, and is unlikely to become a mainstream solution anytime soon. At the time of writing this article, there are just a handful of homes built to the Passivhaus standard in Australia and New Zealand.
Alternatively, mainstream solutions without the extreme rigour of Passivhaus can be adopted - a suitable compromise to help you deliver class leading energy efficiency, air tightness and air quality within a reasonable budget.
To achieve better than Building Code performance (the minimum acceptable standard) and to deliver an efficient home with exceptional all-round comfort, you need to focus on the whole construction with attention on:
Thermal comfort (higher star ratings and less air leakage)
Natural light (larger windows doesn't mean a lower star rating)
Acoustics (air tightness reduces noise leakage)
Air quality (controllable ventilation allows the occupants to effectively manage ventilation rates).
While these concerns may seem a lower priority compared to location, cost and aesthetics when building a new home, they can only be achieved during construction. CSR has conducted building science research to develop strategies to efficiently deliver the above. Our six strategies are:
Ensure construction delivers the Star rating.
Improve airtightness
Balanced & distributed ventilation
Ensure wall construction reduces risk of condensation
Take photos of wall cavities & insulation during construction
Improved weatherisation of windows, doors and roofing.
1. Ensure construction delivers the Star rating
It may sound obvious but the unfortunate truth is that many newly built homes are not meeting the "as-designed" star rating. Gaps in construction also mean we're often not achieving the air tightness the star rating software assumes, resulting in poorer thermal and acoustic performance.
Also, in some very rare cases, product substitution of insulation, glazing and windows is difficult for a certifier to pick up on after installation, however this leaves the potential for costly legal action against the builder and contractors.
2. Improved air tightness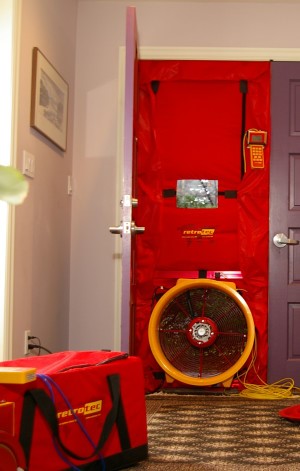 A blower door test determines a home's air tightness. The best time to conduct a blower door test is after insulating but before Gyprock lining is installed.
Ensure the home is built to perform to less than 8 ACH50 (Air changes per hour at 50 Pascals). While Passivhaus requires the building to achieve 0.6 ACH50, 8 is a good goal if this is new to you.
CSIRO recently conducted blower door testing on a range of newly built homes with the average performing to 15 ACH50. A study of much older homes across Australia has this average at closer to 25 ACH50.
A word of caution: if you target below 5 ACH50, be prepared to install a balanced ventilation system (see point 3 below) providing filtered make-up air to the building, reducing the risk of CO2, condensation and stale air build up.
Having a tighter envelope prevents dust and airborne particles from entering the home and improves the efficiency of your heating and cooling system.
CSR's "ComfortTune – Air Tightness Process" helps improve air tightness during construction.
3. Balanced and distributed energy (or heat) recovery ventilation
Heat recovery ventilation systems bring fresh air in to well-sealed homes. Source: Air Change Australia.
In very high performing homes (usually < 5 ACH@50) a balanced ventilation system with ERV filtration is critical for superior comfort and air quality.
An extract-only ventilation system requires makeup air to "leak" through cracks and gaps in construction, however if the home is tight, the air won't be evenly distributed. Having a ventilation system distributing throughout the home ensures fresh air is delivered across every room.
4. Ensure wall construction reduces risk of condensation
Traditionally, in cool or cold climates the accepted approach is to install a vapour barrier on the warm side of the construction (i.e. inside the insulation), however in mixed climates the warm side swaps between seasons. A vapour permeable wall wrap is therefore required allowing the building to "dry out", and this is most easily installed outside the insulation on the frame. During humid and cooler months when internal moisture problems usually arise, ventilation will assist in balancing moisture loads and condensation risk.
For complex wall systems, computer modelling of the construction using your climatic data on a hydrothermal tool such as WUFI can show if there is a risk of condensation and mould growth over multiple years. CSR's building science team operates WUFI and often consults with CSIRO and BRANZ on moisture control in construction systems.
5. Take photos during construction, especially wall cavities prior to insulation
Transparency is a great way to show your clients you stand behind your product. It's incredible but not uncommon to see rubbish, offcuts and construction debris inside wall cavities, roof spaces and subfloors. If you take pride in the performance of your homes, then it's a great tool to market your services and also gives your clients an indication of mechanical system and stud locations. This information is critical for future remodels.
6. Weatherisation of windows, doors and roofing to help divert water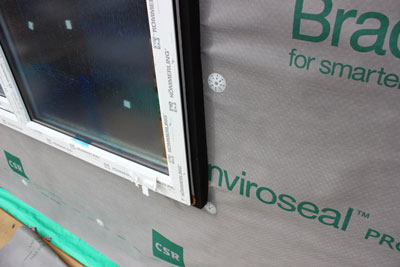 Proper window flashing keeps interiors dry and free of mould.
Unfortunately, Australian homeowners have become accustomed to leaky windows and roofs, and this needs to change. If water finds its way into your home, it can't be considered a healthy home. New generation window flashings, tapes and wall membranes enable a better fit for windows into wall frames ensuring the perimeters remain weather tight.
Building a higher performance house doesn't need to break a homeowner's budget nor does it need compromise to internal fit out, all it really takes is attention to detail and a willingness to adapt construction techniques to next generation thinking.
---
Subscribe to Building Knowledge Newsletter: