Did you know that brand new windows leak air and the majority of all air leakage into and out of a building often originates at the windows? It's true – and there's even a performance number called air infiltration to measure it. Jesse Clarke, CSR Building Scientist, reports on window system design and performance.
Could you imagine the first hot and windy day after you just spent thousands of dollars on brand new windows and your air conditioner just can't get your house cool enough.
Minimising air leakage is critical to maintaining a comfortable environment inside your home and to reduce your reliance on air conditioning to keep you cool in summer and warm in winter. When tested in accordance with Australian Standard AS4420.4 the best windows on the market allow no air leakage.
However many windows available fail to perform nearly as well, with some approved louvre windows leaking the equivalent of 46 m3/hr/m2 (12.74l/s/m²). With just 10m² of these louvres in a home it is enough to completely replace the air in an average size home within one hour, even when they are closed.
Existing older windows in all types of buildings are often found to leak at a rate over 10 times more than even the poorest of new windows. Window selection and installation is covered by the Australian Standard AS 2047, this suggests window leakage of above 5.0 L/s/m² is considered high. At CSR we recommend, in all climates in Australia, windows with low window leakage of less than 1.0L/s/m² should be targeted.
| Air infiltration level | Maximum air infiltration, L/s m2 (Test pressure, 75 Pa) |
| --- | --- |
| Low | 1.0 |
| High | 5.0 |
Table 1 AS 2047 Window leakage classification
Leaky windows cause excessive infiltration and uncomfortable interiors in buildings; good quality windows greatly minimise air leaks with numerous air barriers designed into the window frame and sub-frame. Minimising air leaks is critical to comfort and reducing air conditioning energy.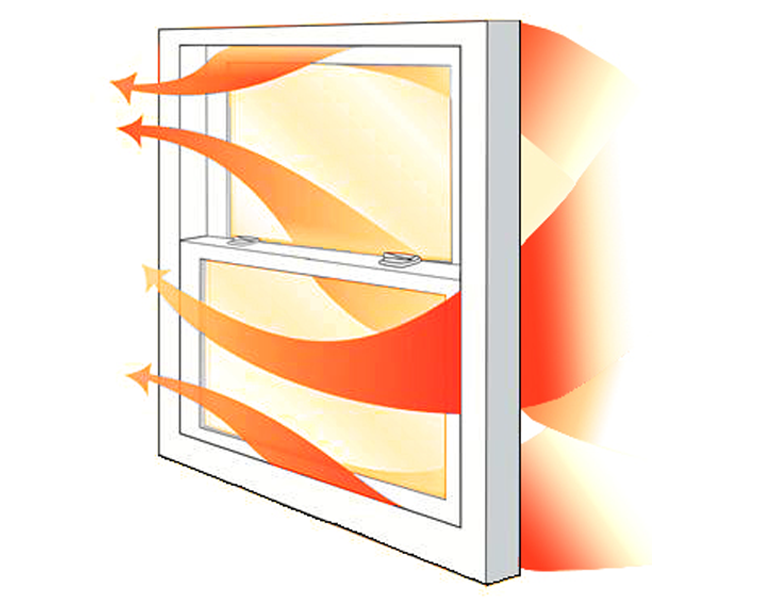 Hot air can leak in through windows.
Poorly designed windows don't have built-in airlocks, weather stripping or barriers necessary to keep air from forcing its way in. Without these design features air will push between the window frame elements. The type of window is also critical to how well it can prevent air leaking through the frame, mainly due to the effectiveness of the seals and ability of the locking mechanism to compress the seals when in the closed position.
For this reason the best windows for controlling air leakage are awning, casement and European style tilt and turn windows which are all on the market with near zero air leakage for the best in class models.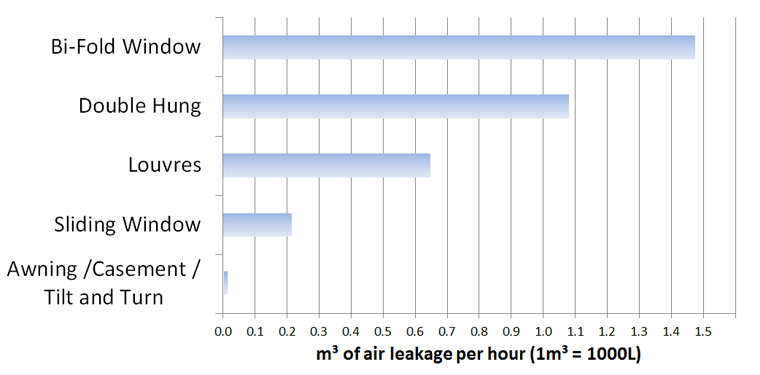 Figure 1 Shows the lowest air leakage which can be achieved by window type, the least air leaky windows are awning / casement / Tilt and Turn (Source: WERS Database)
*Tilt and turn windows are European style windows which can hinge in two directions. It can open like a hopper window for trickle ventilation while maintaining security when you are not at home – or open like casement windows for full capture of breezes.
We all know how uncomfortable a home or office with leaky windows can be, so the best plan always is to focus on specifying windows with a low air leakage rate and ensure they've been installed with due care and attention given to the window perimeter. Occupants or owners should have the choice whether they want to ventilate their space by opening windows or not – rather than the air conditioning or heating systems fighting a losing battle against permanent ventilation due to uncontrolled leaks.
But it's not as simple as specifying good windows. It never is! The builders and trades have a job to do as well. The openings in buildings into which windows are installed are typically oversized to allow room for adjustment so the window frame can be installed level and plumb. What this means is that windows are generally installed with gaps around the perimeter. CSR research has found that sealing these gaps can greatly increase the energy performance of a home or office.
Figure 2
Gaps between window and studs in combination with gaps around architraves results in reduced thermal performance of window and walling systems
Figure 3
Air leaking through the free air path created between outdoors and indoors
Figure 4
sealing around windows (Solid masonry construction shown). This is not only a winter issue, humidity and heat from outdoors can just as easily take a free ride around your window frames, presenting even more issues in hot humid climates.
To prevent uncontrolled water leaks and air leaks for improved energy efficiency and building longevity, there are some key points highlighted below to consider.
Brick Veneer
Weep holes required at top and bottom of window to drain the head flashing and sill flashing to outside.
Water should not be directed into the cavity.
An air seal is required between the window reveal and fixing plate of the wall.
Architraves should be caulked as last line of defence and to improve air sealing.
Sarking membranes provide drainage to expel majority of water to outside and protect moisture sensitive materials on the inside. Sarking materials to be classified as water barrier. For further information see article "Know your cavity".
Cavity Brick
Weep holes are required at top and bottom of window to drain head flashing and sill flashing to outside.
Water should not be directed into the cavity.
An air seal is required between the window frame and the inner brick leaf. To improve energy effiicency.
The brick cavity provides drainage as to expel the majority of water to outside.
Most water is expected to run down the back of the outer masonry leaf and expel the majority of water safely to outside.
Lightweight
In lightweight clad walls, header and sill flashing should both drain to ouside.
Sill flashing or window sill must not drain into wall cavity as this increases the rain load in the cavity and slows the drying capacity of the wall.
An air seal is required between the window reveal and fixing plate of the wall.
Architraves should be caulked as last line of defence and to improve air sealing.
Sarking membranes provide drainage to expel majority of water to outside and protect moisture sensitive materials on inside. Sarking materials to be classified as water barrier. For further information see article "Know your cavity"
---
Subscribe to Building Knowledge Newsletter:
---