CSR Bradford demonstrates the effectiveness of bulk and reflective insulation in hot climates, proving the home "hotbox" theory wrong once and for all.
On a hot summer day in early 2016, the team from CSR Bradford headed out to Wetherill Park in Sydney's west with our building scientist, Jesse Clarke, to test a hypothesis. What effect would different insulation types have on a bucket of ice in a hot box?
To test our hypothesis, we built three identically sized boxes reflecting standard construction methods. With internal dimensions of 570mm X 570mm X 570mm and using 90mm timber studs, all boxes were lined internally and externally with 6mm Cemintel fibre cement.
Each box had a different method of insulation:
Box 1

was uninsulated, with an empty cavity between the linings

Box 2

was identical to Box 1, but wrapped with Bradford Thermoseal Wall Wrap reflective foil membrane around all four walls and the roof, this created a reflective air gap that should reduce radiant heat transfer and improve the thermal performance of the box

Box 3

was also identical to Box 1 but was insulated with Bradford Gold R2.5 Wall Batts in the cavities on all four walls and the roof, the bulk insulation should resist conducted and radiant heat flow, further improving the thermal performance of the box.
Built into the floor of each box was a large plastic funnel in which we placed 1 kg of ice. Underneath each funnel a measuring cylinder collected melted ice, each cylinder containing a few drops of food colouring to identify the different boxes.
The idea was to test the relative performance of the uninsulated box vs the box with Bradford Thermoseal wall wrap and the box with Bradford Gold Wall Batts insulation on a hot day to see which best withstood the climatic conditions. The rate at which the ice melts determines how effective each system is to keep your home comfortable on hot summer days.
On the 34°C day, the results were:
The unsinsulated box melted more ice throughout the experiment.
The conclusion: 40% more heat entered Box 1 than Box 3 and 5% more heat entered Box 2 than Box 3. Bradford Gold R2.5 wall batts therefore performed best overall and the Bradford Thermoseal wall wrap also outperformed the uninsulated box.
The internal temperature of each box was recorded to demonstrate how effective the insulation systems were in managing the internal environment. The initial temperature drop shows how the ice cools the air in each box, with the uninsulated box recording the most dramatic increase in temperature and therefore correlating to the increased rate of melting ice.
The box insulated with Bradford Gold Wall Batts had the slowest rate of temperature increase proving how effective bulk glasswool insulation is in reducing heat flow.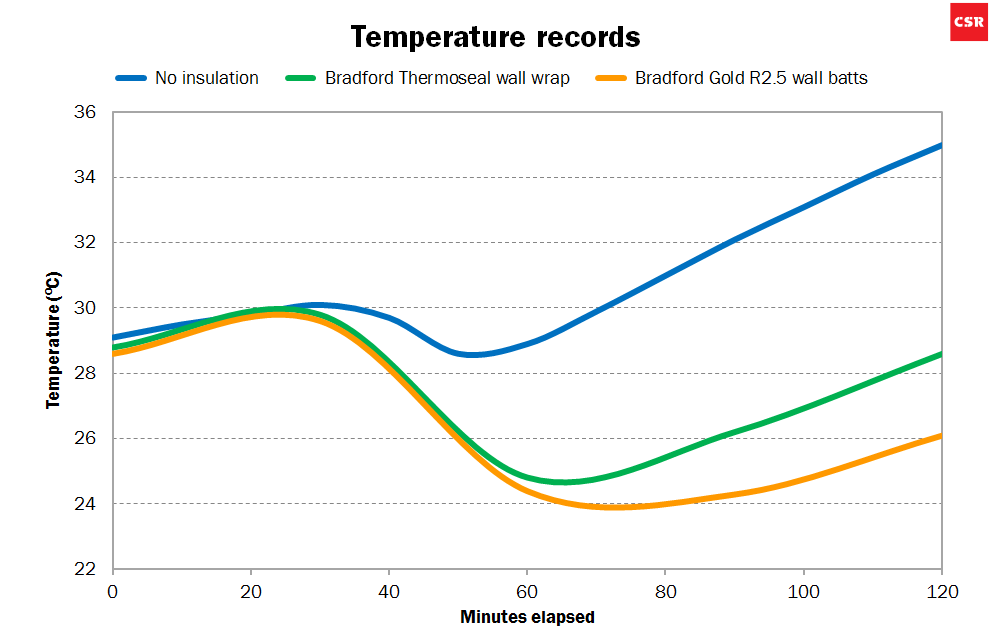 An uninsulated home is the real hot box
What does this mean for your home? It means that with insulation in your walls and roof, in summer less heat is absorbed into the home so you will stay cooler and be less reliant on air-conditioning; and in winter, insulation helps reduce heat loss ensuring your heater doesn't need to work as hard to keep you comfortable.
Proof that insulation is an effective method to make your home more comfortable, healthier and energy efficient year round.
Building Knowledge will be focussing on health and comfort within buildings through 2016, articles will discuss air tightness, thermal stability, daylight, acoustics and effective ventilation.
---
Subscribe to Building Knowledge Newsletter: