What is the future for star ratings? Jesse Clarke, CSR Building Scientist, investigates
The Australian building industry has only had building energy efficiency codes and star ratings since 2004 – less than 10 years. Already we have seen them exercise significant influence over building design – both commercial and residential.
So, where have we been and where are we heading – what do the stars tells us?
In Australia as many as 140,000 new homes are built every year to these energy efficiency standards. To illustrate how far the thermal performance of buildings has come over the decades, we looked at some examples of the likely ratings that would be achieved by homes built in years gone by:
| Homes (by construction type and period) | Star rating (estimate) |
| --- | --- |
| Home built from timber and corrugated iron in Sydney's inner-west a century ago | <0.2 |
| Double brick home built 70 years ago | 1.5 |
| Fibro home built after WWII | <0.5 |
| Brick veneer home built in the 1970s or 1980s | 2.5 |
| Average of all Australian homes in 1990 | 1.5 |
Victoria introduced mandatory insulation for new homes in 1990. In 2005, the Building Code of Australia required new homes to be 3.5 star rated. This was increased to 5 stars in 2007, and further to 6 stars in 2010. CSR estimates for all the homes in Australia, the average star rating would currently be around 2.8.
All new homes across Australia must now meet the minimum 6-Star standard (BASIX in NSW). This is obviously a big improvement on the past century but still around 1-2 stars behind equivalent North American building standards in climate zones similar to Australia.
Energy costs in Australia are now higher than in the USA
Australians have traditionally had low energy costs and high land prices which inevitably places pressure on construction costs and reduces the incentive for energy-efficiency initiatives.
Balancing energy efficiency, affordability and comfort has become one of the pressing challenges for the whole industry to address, across all building sectors in all States.
Average household electricity prices in 2011/12 and Australia projections to 2013/14 (2011 exchange rates)
Source: Electricity Prices in Australia: An International Comparison, March 2012. Report to the Energy Users Association of Australia.
So how can we use building astrology to tell us the future?
Rising energy costs in Australia are fuelling a drive for cost savings in the building industry. By understanding the potential for energy efficiency through calculations using the NatHERS software, we can estimate the energy savings (and dollar savings) of energy-efficiency upgrades with a high degree of precision.
The greatest potential for finding energy savings at lowest cost is by utilising this method of assessment and analysis at the concept design stage.
Ability to influence energy efficiency against the cost to implement over time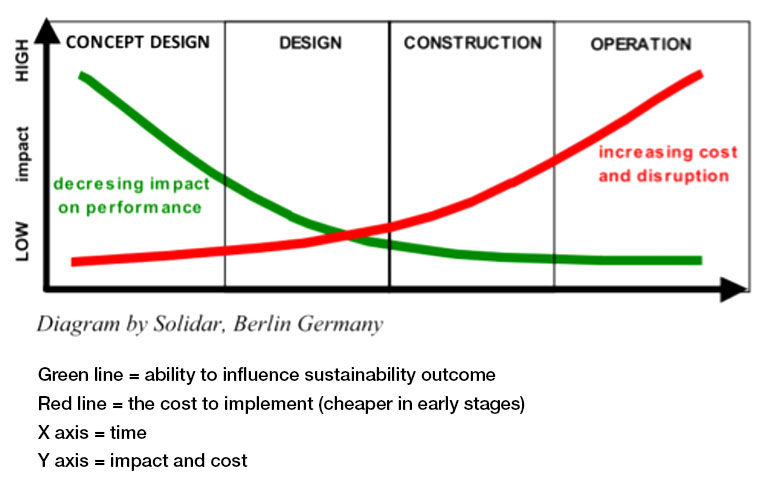 Diagram by Solidar, Berlin Germany
CSR is researching the most cost effective ways to achieve higher star ratings using advanced analytical tools for tropical, sub-tropical, mixed and cool climates. The two key things that determine the star performance of buildings is the amount of heat loss and the amount of heat gain. Get the balance right and your building will be comfortable all year round.
Key Regions for CSR Costing Research
The three key ways to balance the heat losses and heat gains are; orientation of glazed areas, the performance properties of the insulation and the performance properties of the windows. Generally, higher performance insulation and higher performance glazing is more expensive than stock standard products, so balancing the heat losses and heat gains also needs to be weighed up against the cost of controlling heat. The below graph shows a number of costing permutations undertaken to determine the most cost effective ways of achieving 6, 7 or 8 stars in mixed climates. The graph show over 41,000 costing options for CSR House in Mixed Climate zones with 3 variations in window areas. For no additional cost the design can be upgraded from 6 to 7 stars, and for an additional $2,300 further improved to 8 stars.
Cost vs Star Rating - Mixed Climates
At CSR we are embarking on the huge industry challenge of improving integration of the sustainability measures included in NatHERS – from design through to the construction stage – delivering maximum cost savings to homeowners.
Working with a number of builders during the development of the CSR House Innovation Centre, CSR has come a long way in understanding how energy-efficiency measures are most effectively implemented.
CSR's research is identifying best practice in delivering operational savings by advocating and effectively implementing NatHERS design recommendations at the construction stage.
---
Subscribe to Building Knowledge Newsletter:
---