Property
CSR Property focuses on maximising financial returns of surplus former manufacturing sites and industrial land.
The Property team has extensive experience in managing large scale property projects including:
Site rezoning
Remediation
Biodiversity
Civil earthworks
Road construction
Infrastructure and services
CSR Property also provides the CSR businesses with strategic property advice on future impacts of urban expansion on key CSR sites as well as managing CSR's extensive leased and owned property portfolio in excess of 180 sites across Australia and New Zealand.
This video includes details of two of CSR's Property projects in western Sydney
Key projects
Schofields, NSW – Residential development
Currently operating as a PGH Brick factory, the Schofields site is targeted for future residential development
The 80 hectare site has capacity for 1,525+ lots
Rezoning is due for completion in late 2020 in this rapidly growing area in northwest Sydney
Quarry rehabilitation completed with ongoing development work underway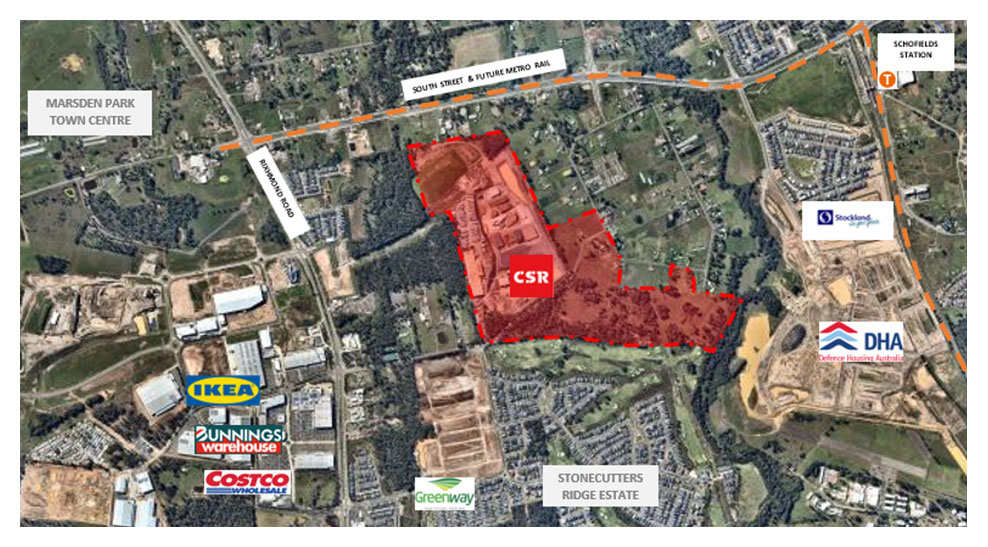 Horsley Park, NSW – Industrial development
Horsley Park is the site of a PGH Brick factory which includes 30 hectares of surplus industrial land.
Stage 1 - 10 hectares was sold in April 2018 for EBIT of approximately $31 million
Stage 2 – 20 hectares was sold in November 2019 for $94 million in EBIT
Development of 20 hectares of Stage 2 continues with land rehabilitation underway.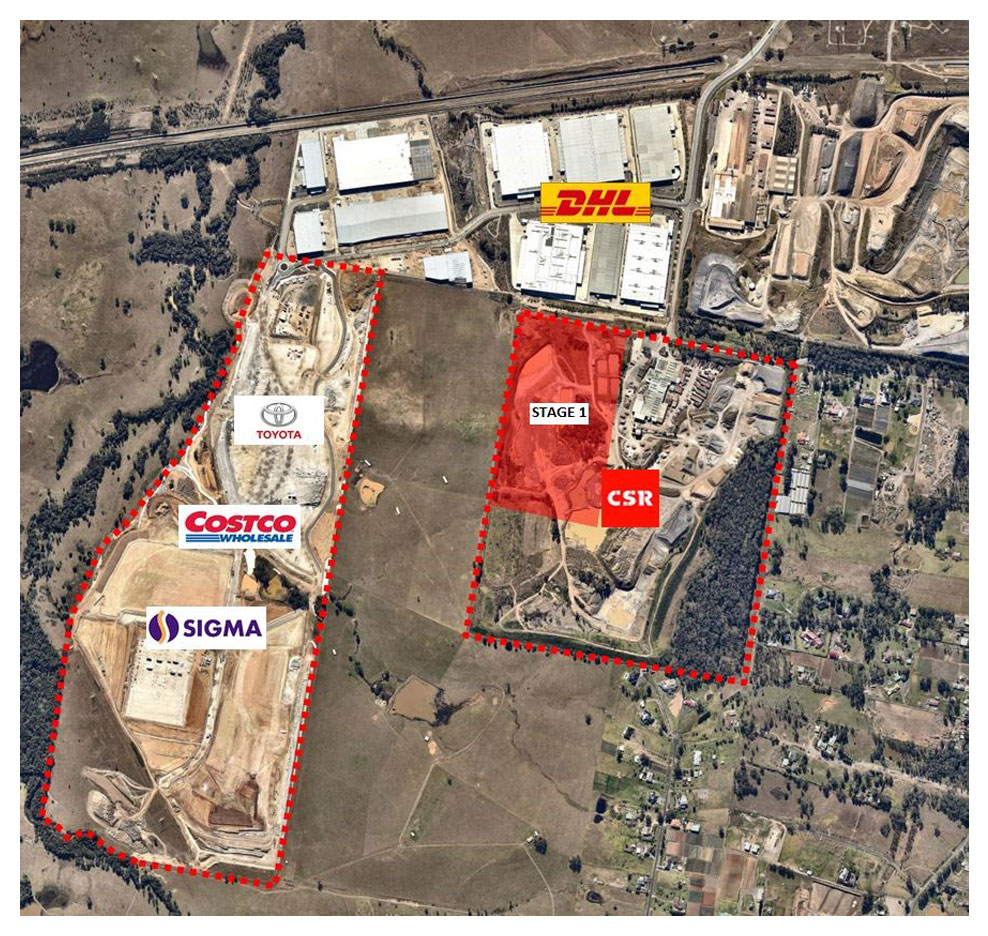 Western Sydney - strategic sites:
CSR Property has a number of strategic sites in western Sydney totalling over 450 hectares.
Key sites include:
Badgerys Creek - 200 hectares located directly adjacent to Western Sydney International Airport
Cecil Park - 37 hectares currently operating as a PGH Bricks plant located close to major arterial roads at the intersection of the M7, Elizabeth Drive and M4
Bringelly - 92 hectares currently operating as a PGH Bricks plant located in the South West Growth Area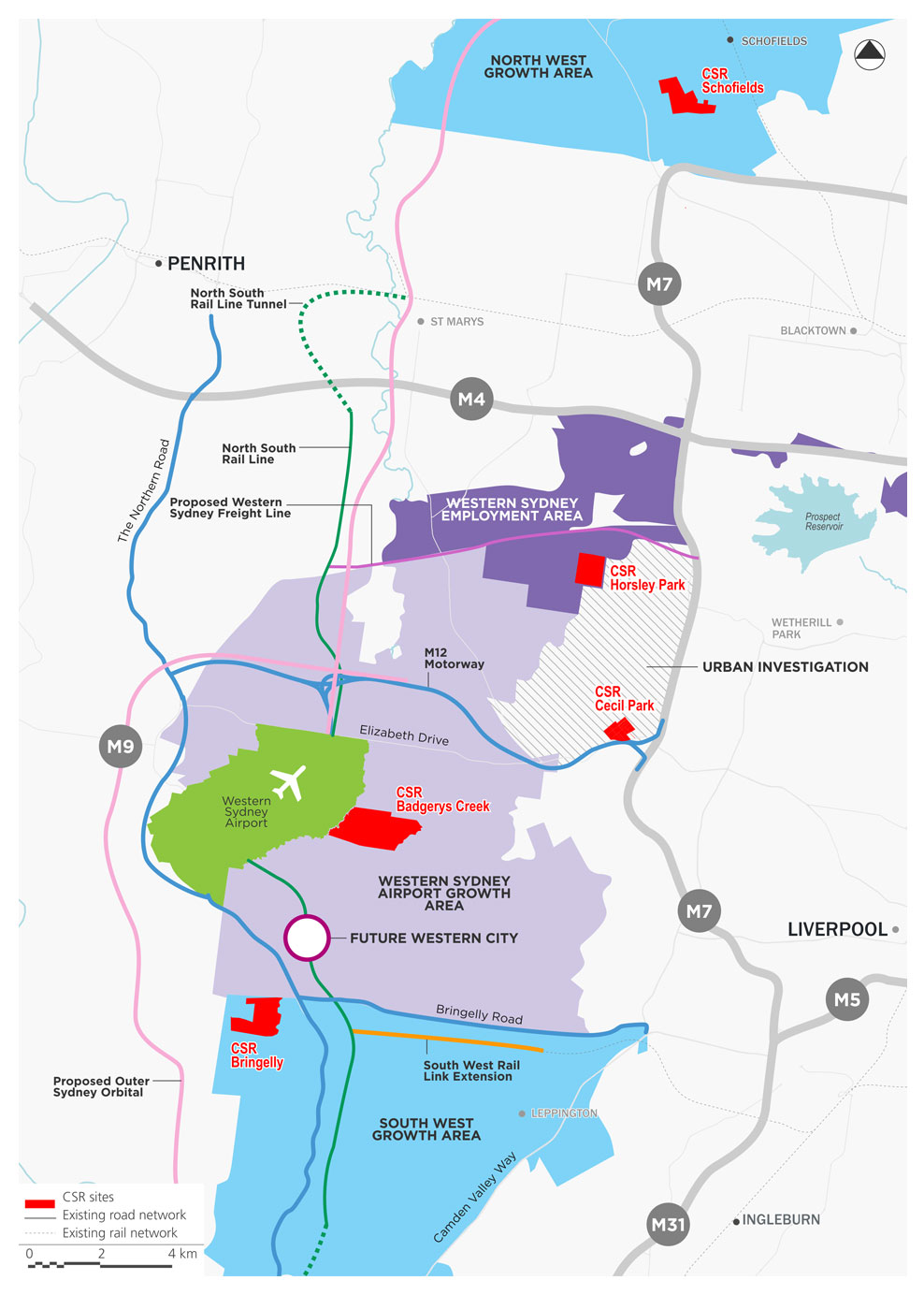 Chirnside Park, VIC – Residential Development
Chirnside Park is 33km east of Melbourne CBD
CSR converted the 43 hectare site into a large residential development totalling almost 600 residential lots.
Construction and siteworks began in October 2012
Total proceeds expected for the project ~$200m and EBIT of ~$55m