CSR Gyprock products feature in beautiful interiors and structures, breathing life into an old weatherboard house to create a farmhouse style family home
The Project
Heritage House is the project of homeowners Brad and Lara Cranfield who successfully won Channel Nine's The Block in 2012. Set in Bishops Bridge, New South Wales, this power renovation couple have finished extensive renovations on an old weatherboard house with the overall idea of creating a farmhouse style family home.
With its modern building materials and systems, CSR Gyprock shows how great planning in the build stage leads to beautiful structures and interiors that can transform a house into a home.
The Challenge
Brad and Lara took inspiration from both country and modern designs to create an open plan farmhouse complete with wrap-around verandahs. The simple, clean design of the renovation allows for lots of natural light to fill the space, drawing attention to their preferred classic styling that will remain timeless. The house consists of four bedrooms, two and a half bathrooms, separate laundry, large open plan kitchen, and a living and dining room with a loft.
"One of the main challenges was in the kitchen, living and dining area where we have a cathedral type ceiling with the centre beam being 6.1 m from floor level," said Brad. This open space was one of the main design features of the home, so it was of upmost importance to get it right.
The Result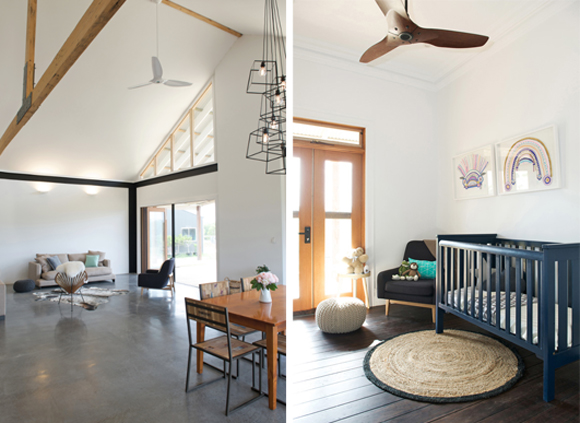 Classic lines with a fresh new look featuring Gyprock
Achieving the desired look and feel of this room was the most challenging aspect of the project, "Whilst it was the most challenging, it has become the most satisfying aspect of the whole project seeing our idea come to fruition and the rooms turn out just the way we wanted them to look and feel. Using Gyprock products helped us achieve the level of finish we were looking for and also made installation easier as well" said Brad.
"We chose Gyprock because we had used their products before and we knew we could trust the quality of the products and be confident of achieving the high standards we were after." The simple design of this space with minimal colour against the painted white Gyprock internal linings backdrop helped create an inviting open-plan living zone, anchored by a statement pendant light.
The home has a simplistic and clutter-free look that pays homage to the heritage of the home. The white walls and neutral furniture, paired with colourful hanging artwork creates a balanced rustic twist.
---
Subscribe to Building Knowledge Newsletter: